After Melissa Atkin was killed, her young son Lucas was left without a parent. His grandparents, Melissa's parents, stepped up and took him in.
Melissa's murder was solved quickly but the scars left by her 2006 death were slow to heal. The last of which was stitched up in a Rutherford County courtroom on her 49th birthday in 2020 when Lucas changed his last name to hers to honor his mother.
The Victim
Melissa Atkin (above), or Missy as many of her friends called her, was 36 years old when she was murdered. She was living in the Florence community (the area between Murfreesboro and Smyrna off Murfreesboro Road) with her young son Lucas.
According to her obituary, Melissa was survived by her parents, grandfather, brothers, son and a host of friends and relatives. She was described as loving "having fun with her family and friends, and she loved to laugh." Among her interests were pets, dancing, cooking and the Pittsburgh Steelers. She also practiced martial arts with her son and was member of the Anglican church.
The Suspect
Melissa Atkin and Scott Reynolds met around 1995. They began dating shortly afterward and moved in together.
Melissa's friend Marcia Kautz testified in court that the relationship between Melissa and Reynolds was "very passionate (with) physical chemistry" but that there seemed to be some underlying tensions rooted in "their different social, family, and moral upbringing." Those tensions came to a head when they moved to Texas in the summer of 2001. After only a year and a half, they moved back to Rutherford County and Melissa's parents noted the couple's relationship had become "volatile" with reports from friends of verbal and emotional abuse. This led to a separation in May 2006 when Reynolds moved out of the family home into a rental just a few doors down from Melissa's parents.
After Reynolds moved out, Melissa started custody proceedings to come to terms about the parenting plan for their son Lucas. Melissa's parents testified in court that the relationship between Melissa and Reynolds changed at that point. He resisted paying child support "and insisted that no one come between him and Lucas."
Reynolds was known to call Melissa up to 15 times a day and leave harassing messages, which included threatening her attorney.
The Murder
On the morning of Sunday, Dec. 16, 2007, Linda Atkin called her daughter to finalize their dinner plans for that night. Melissa never answered the phone. Linda Atkin went to church with her husband Douglas. When they got home, she called again and again and again with no answer.
"We were very, very afraid," Douglas Atkin said.
Worried about their daughter, they drove to her house to find her car in the driveway and the front door locked. But the sliding glass door in back was open, curtains blowing in the breeze.
"You could just feel it was evil," Douglas Atkin said.
Inside, they found their nightmare. Melissa was dead, likely from the gunshot wound to the back of her head. She's been left on her bed bound, lying on her stomach, naked from the waist down. Her trusty beagle keeping watch over her body.
According to testimony from Dr. Amy McMaster with the Nashville Davidson County Medical Examiner's Office, Melissa had been shot three times in the head and her hands were tied behind her back with black plastic ties. The autopsy found the gun had been shot at point-blank range, just a few inches from Melissa's head. She found three bullets that likely caused instantaneous death.
Shelly Betts, with the Firearms Identification Unit of the TBI, testified she found a jacket casing from a Winchester Western .32-caliber bullet, which were the same caliber as those that killed Melissa.
Unfortunately, the .32-caliber guns produced at the time by about 10 different manufacturers and were easily found for sale in retail locations like Walmart.
Initially, Reynolds said he was out of town hunting in Lewisburg on Saturday, Dec. 15, 2007, despite it being his weekend with his son. Reynolds told a friend he had left Lucas with his teenage son who lived in his house while he went on the hunting trip.
But it would come out that wasn't the truth.
During the trial, Reynolds ex-girlfriend Eve Barger testified to a different version of events.
Reynold was visiting her in Lewisburg with his two sons – one a teenager and the other was Lucas, his 5-year-old son with Melissa. Reynolds and the boys had spent the day hiking on her property before having dinner with her. Around 11 p.m., Reynolds told her he wanted to go look at a deer stand with the teenage son and asked her to listen for Lucas while he was gone.
A few hours later, she awoke to the sounds of Lucas crying. Barger scooped him up into her bed where he asked where his father was and played with his toy dinosaurs as she unsuccessfully called Reynolds's cellphone.
Reynolds didn't return until between 5 a.m. and 5:30 a.m. Sunday, Dec. 16, 2007. Barger said she woke up when Reynolds laid down on her bed with Lucas between them.
"I was laying there and I had my back to him. And I could hear him shifting around, and he was sobbing like he was crying and sniffling. And I rolled over and looked at him and I said, 'Scott, what's wrong with you?'" Barger testified.
She was shocked when he said "I just killed Melissa" because he "couldn't take it anymore."
Barger said she wasn't sure whether to believe Reynolds at first, but then she found a .32-caliber handgun was missing from her home. Then the police called her and started asking questions.
The slugs taken from Melissa's skull, which were made in 1977, matched those from the gun missing from Barger's house. The gun wasn't found but bullets for it were found in the gun bag in which it was kept.
But Reynolds's defense countered that there wasn't any physical evidence linking him to the scene. And his teenage son testified Reynolds never left the room they were staying in that night.
The prosecution countered with "Scott Reynolds was going to lose in court and he chose murder to solve his problem."
After a multiple-day trial, a Rutherford County jury found Reynolds guilty of first-degree murder. Judge Don Ash sentenced him to life in prison. He will be eligible for parole after serving 51 years.
"God has prevailed over evil," Douglas Atkin said after the verdict was read.
The Ending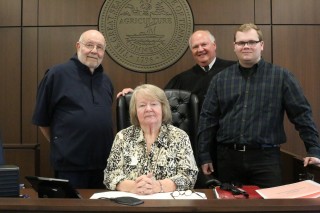 Douglas Atkin, from L to R, Linda Atkin, Judge Don Ash, and Lucas Atkin
---
Nearly 15 years later, Lucas finally severed the last part of him that connected him to the man who murdered his mother.
After the trial, Lucas went to live with his maternal grandparents, Linda and Douglas Atkin.
For a dozen years, Lucas and his grandparents wanted to formalize their relationship with an adoption, but they waited.
"I wanted to finally be part of their family legally," Lucas said.
Linda and Douglas had run into legal obstacles related to Reynold's parental rights. They were told, for instance, that Reynolds would have the right to attend any parental termination hearing in person. Lucas had not seen his biological father since he was charged with his mother's murder, and Linda and Douglas did not want to put him through that process. They were also told that Lucas could be called to testify if they followed through with their efforts.
Then Lucas turned 18 in December 2019 and decided that he finally wanted to change his full name, Lucas Scott Reynolds, to Lucas Reynolds Atkin. Once a person turns 18, a parent cannot object to a petition to terminate parental rights. Thus, the decision to go forward so soon after Lucas reached his majority.
"We were already a family, but he didn't want to carry his dad's name; he wanted his mom's name to honor her," Linda Atkin explained.
Presiding over the hearing was Don Ash, the same man who, in 2008, sentenced Lucas's biological father to life in prison for the first-degree murder of Melissa.
At the time of the trial, Judge Ash was still a Circuit Court judge, a position he held for 18 years. For the past 8 years, he has been a Senior Judge, meaning he travels around the state hearing a variety of cases on assignment.
Ash agreed to hear the case if the Tennessee Supreme Court would assign him to it. He contacted Tennessee Supreme Court Chief Justice Jeff Bivin, who agreed. The family asked if the hearing could take place on Jan. 15, Melissa's 49th birthday.
"People need to see hope," he said in court. "They need to see grace. They need to see good things happen sometimes, and this is a good thing."
After the hearing, Linda talked about the process of watching Lucas grow from a young boy to a young man, about what she has lost and what she has gained.
"He's a joy, and he makes us laugh," she said. "He even dusts. We're blessed. We lost something beyond belief, but we were given something the same way."
Now Lucas embarks on adulthood with a new name.