Satanic Panic came to Murfreesboro in 1989.
Marvin and Sandra Maple accused their daughter Debbie Baskin of worshiping the Devil and offering her two oldest children – Christi and Bobby Baskin – as human sacrifices. The Maples also accused Debbie of physically and sexually abusing her children.
Not only was Debbie a member of a Satanic Cult, so was her husband Mark and all the people investigating the abuse allegations.
When the charges were dropped for lack of evidence, the Maples decided to take the matter into their own hands and fled Tennessee with Christi and Bobby Baskin around the beginning of March 1989.
Over the next 20 years, investigators from the Rutherford County Sheriff's Office, Tennessee Bureau of Investigation, and Federal Bureau of Investigation worked tirelessly to bring the Baskin kids home.
30 years later, they have been found, but they still haven't returned to Tennessee and refuse to meet with their biological parents.
The Missing Persons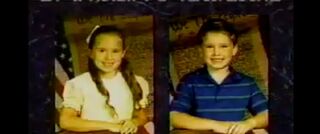 Katharine Christine "Christi" Baskin and Robert Maple "Bobby" Baskin were 8 years old and 7 years old when they were abducted by their grandparents.
Mark and Deborah "Debbie" Baskin, their parents were living in Kentucky at the time of the abduction as Mark attended seminary. Mark was pursuing a master's degree in church music at Southern Baptist Theological Seminary in Louisville.
Christi and Bobby were living with their grandparents in Murfreesboro at the time but their younger brother Micheal, who was 6 years old at the time, still lived with the Baskins.
In January 2009, Mark Baskin said "the not knowing is the most threatening to us."
"There's no way we're going to get these 20 years back. ... It's been tough," Baskin said in an interview with The Murfreesboro Post from his home in Georgia.
The Crime
When the Baskins moved to Kentucky, the older children stayed in Murfreesboro with their grandparents as their parents got settled in.
In what investigators believed was an attempt to keep Christi and Bobby, the Maples alleged in May 1988 that their parents had physically and sexually abused the children. Temporary custody was given to Marvin and Sandra Maple, Debbie Baskin's parents, who still lived in Murfreesboro.
They also alleged that Mark and Deborah Baskin were involved with a Satanic cult and offered the children as a human sacrifice. At the time, a moral panic surrounding perceived satanic ritual abuse had spread through the U.S.
As investigators looked into the allegations, they found the allegations originated from the grandparents, not the supposed victims.
"Then their allegations became more bizarre, and they were saying we were being paid off by the cult and more people were members of the cult," Rutherford County Sheriff's Detective Carolyn McGowen said in 1989.
The fact that the Maples didn't care about the younger child also made McGowen suspicious.
The charged were eventually dropped because of a lack of evidence and the Baskins were cleared of any devil worship or abuse, investigators from the Rutherford County Sheriff's Office and Department of Human Services said.
The children were ordered to be returned to their parents when the Maples fled in March 1989.
"Marvin and Sandra have said they would kill the children before they would allow them to be returned," McGowen told The DNJ.
When the Baskins asked for their children back, the Maples fled.
The Maples told Karen Hornsby, who had been appointed as the legal guardians of Christi and Bobby, they were going to Florida, but they never came back to Rutherford County.
In actuality, they had been secretly working to empty their house in Murfreesboro and leave the state. News reports at the time detailed how the Maples rented moving vans in the months before, taking short trips to empty their home. They then placed the home for sale, giving complete power of attorney to a real estate agent to sell it. It sold for nearly $80,000 in August 1989.
The Investigation
On March 13, 1989, local warrants were issued against Marvin and Sandra Maple by Hornsby. By the end of the month, the FBI had gotten involved and federal arrest warrants were obtained.
For the next 20 years, investigators checked telephone records, talked to family members and distributed information through the National Missing and Exploited Children's Network.
In June 1989, Debbie's sisters reported receiving letters from Boston and other locations but the Maples couldn't be located by federal authorities.
TBI and FBI investigators knew the Maples were still in the country because of a passport check.
It was believed that the Maples were aided by members of their family who believed the allegations against Mark and Debbie.
"It just doesn't make sense. The hard thing to believe is that there are two adults who are whacked out with these ideas – not just one. We fear for what they'll say to the children and what they've been telling them for two years," McGowen said in 1990.
The FBI found a connection between the Baskins and Faye Yeager, a woman who allegedly helped noncustodial parents kidnap children through Children of the Underground. Yeager admitted to having telephone conversations with the Maples.
The Baskins hired a private investigator, and their story was even profiled on Unsolved Mysteries in February 1990.
The TV segment resulted in more than 200 calls from all over the country but four callers from one apartment complex in Santa Clara, California. The tips were about a birthday party held in September 1989 for two children named "Robbie and Christi."
Several re-broadcasts over the 1990s brought in tips from Massachusetts to California.
Despite the widespread investigation and media attention Christi and Bobby weren't found until 2009.
The Discovery
In February 2009, the Rutherford County Sheriff's Cold Case Unit announced they had located the Baskin children.
Christi and Bobby were found in San Jose, California. Two anonymous witnesses came forward after they had read an article in The San Diego Union-Tribune, according to a story in The Murfreesboro Post.
The tips led to a man going by the name "John Bunting," who turned out to be Marvin Maple. Sandra Maple, alias Frances Bunting, had died in March 2006.
One witness said she became suspicious when Maple complained about how he was portrayed in the article. When the San Jose police investigated the tip, they discovered Maple living under an assumed name.
Maple, who was 73 years old when he was found, was arrested and returned to Tennessee.
The Aftermath
On Feb. 1, 2009, Maple was charged with kidnapping and was initially given a $1 million bond but it was reduced to $100,000.
In May 2009, Maple entered a guilty plea to two class-E felonies of custodial interference. He was sentenced to four years supervised probation. He died in 2016 at 80 years old.
When they were found, Christi was 28 years old and living as Jennifer "Jenny" Bunting. Bobby was 27 years old and living as Johnathan "Jon" Bunting.
Jennifer is a nurse and Jon is married with a family of his own.
Jenny and Jon referred to the Maples as their parents and refused to meet with the Baskins.
In 2017, Jon Bunting gave an interview to WSAV-TV explaining why he refuses to meet with his biological parents. More from Jon can be found here.
Bunting said he and his sister "fled with their maternal grandparents … and took on new names."
He said he remembers "moments of horror" from sexual, physical and emotional abuse at the hands of the Baskins. When the investigation into his allegations was over and his parents were cleared, he said the Maples gave him and his sister a choice: to stay or go. They chose to leave their family behind.
They picked new names, birthday and backgrounds.
For the next 20 years, they lived as a typical nuclear family. Jon and Jenny even went to college.
"They sacrificed everything so we could have normal lives," Jon said.
Debbie Baskin blames her parents for implanting false memories in the children.
Jon said that is impossible "because it's too vivid. It's too clear. There are too many details."
Because of the memories and allegations, neither of the Buntings have agreed to meet their biological parents.
But Mark still hasn't given up hope.
"I know we will see them again someday," Mark Baskin said. "It may not be on earth, but I feel quite sure, we'll see them again."