Often called America's First Serial Killers, "Big" and "Little" Harpe admitted to killing at least 28 people in East Tennessee and Kentucky.
Over nine months in 1798-1799, it is believed the Harpes killed 39 and possibly 50 people.
According to the Tennessee Encyclopedia of History and Culture, "the legend of their atrocities survives as one of the most disturbing accounts of blood-lust in Tennessee history."
In fact, the place where Big Harpe was caught and executed still bears the named Harpe's Head Road and is marked as "Harpe's Head Road State Historic Site."
The Murderers
In April 1799, the governor of Kentucky issued a $300 reward for the capture of The Bloody Harpes" that gave descriptions of the men.
Micajah "Big" Harpe was described as being "of robust make" and standing about 6' tall. He appeared to be around 30 years old with short, black, curly hair and a "full fleshed" face. Wiley "Little" Harpe was described as having a "very meager" face with short black hair. As to his age, "he looks older, though (is) really younger." They were both said to have "a downcast countenance."
Born Joshua Harper, Micajah "Big" Harpe (above left), either came from Scotland or Orange County, North Carolina.
He was a prolific bandit and highwayman, who honed his skills as a plantation overseer, soldier and frontiersman. His brother Wiley "Little" Harpe (above right) was born as William Harper and worked alongside his brother.
They began their lives of crime during the American Revolution when they, British Loyalist, started robbing and killing settlers in East Tennessee.
It's difficult to discern facts about the Harpes because legends have blended with their true exploits over the past 200 years.
Few historical records remain but those that do refer to them as brothers born in 1768 and 1770 respectively to Scottish parents from Orange County, North Carolina, but they could have been first cousins from Scotland.
According to the most prevelant theory, the Harpe family were British loyalists who were mistreated by their Patriot neighbors. This maltreatment led Big and Little Harpe to vow revenge against those they saw as traitors.
Around 1775, the Harpes left North Carolina to work as overseers in Virginia. At the outbreak of the Revolutionary War, they reportedly joined "a Tory rape gang" that targeted Patriot settlers as a loosely organized militia.
After the war, they banded together with British-backed Native Americans, the Chickamauga Cherokee, who raided settlements in Middle and East Tennessee (including a young Nashville) and Kentucky. During this time, they kidnapped several women, Maria Davidson and Susan Wood, whom they "shared as wives."
They left the Cherokee in 1794 when the Chickamauga were raided by the Ore Expedition near Chattanooga.
Around 1797, they settled near Knoxville and Little Harpe married Sarah "Sally" Rice, according to Knox County marriage records.
At first, they lived and worked peacefully, but soon began pilfering horses, hogs and sheep from their neighbors. It was this theivery that led to their first murder.
The Victims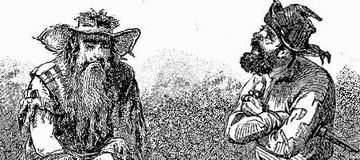 After they settled near Knoxville, the Harpe brothers began their killing spree throughout Tennessee, Kentucky and Illinois.
In 1797 or 1798, the Harpes were accused of killing their first vicitm. The man named Johnson, whom the Harpes met while drinking in a tavern near Knoxville, was found in the Holston River. He has been disembowled and weighed down with stones in his torso. It was also said he had been covered in urine.
This became their MO as they terrorized the frontier.
The Harpes preferred to slit the throats of their victims, disembowel them and then dispose of the evidence by weighing down the corpses with rocks before tossing them in a river.
There's another theory that says they killed Moses Doss, a friend who may have made a pass at one of the Harpe women. His remains were found in 1797 near a Charokee village.
The Harpes killed seemingly indiscriminately. Men, women, children. For money or no reason at all. After his capture, Big Harpe confessed to killing 27 people, "aided by his brother."
When the Harpes fled Knox County via the Wilderness Road, they are believed to have killed a peddler named Peyton, then two unnamed travelers from Maryland named Paca and Bates. In Kentucky, a man named Stephen (also John or Thomas) Langford offered to buy the Harpes dinner on the trek through the Cumberland Gap into Kentucky. They thank his kindness by taking his coin purse and his life, Jim Ridley wrote in the Nashville Scene.
Following Langford's murder, the Harpes were caught on Christmas Day 1798 and jailed in the Kentucky State Jail at Danville, Kentucky. But they wouldn't be held long.
They escaped the state jail (leaving their three pregnant "wives" behind) and a posse was formed to track the men. During the search, Johnny Trabue, the son of one posse member, was found killed in the Harpe fashion, presumably in retaliation.
The Harpes fled north and killed two more men named Edmonton and Stump, and then three men camped by the Saline River in Illinois.
From there, with wives and newly born children in tow, they made their way to the stronghold of noted river pirate Samuel Mason. They stayed in his hideout, called Cave-in-Rock on the Ohio River.
Their reprive didn't last long as their blood lust proven too much for even the river bandits.
"Suddenly, the outlaws in the cave became aware of terrified screams, hoof beats, and the clatter of dislodged rocks. They ran out of the cave, they could see the horse's neck extended, its legs galloping frantically against the thin air, and tied to its back the naked, screaming prisoner, stark horror on his face. In an instant horse and man were dashed against the rocks," wrote W. D. Snively Jr. in his book "Satan's Ferryman."
Their rampage continued in 1798. In July 1798 alone, they killed a farmer named Bradbury, a man named Hardin and a boy named Coffey.
Other victims were William Ballard, James Brassel, John tully, John Graves and his son, a young girl, a slave for his corn, an entire family of eight they found camping, a man named Trowbridge, Maj. William Love, and Mrs. Moses Stegall and her four-month-old son.
Big Harpe also confessed to killing his infant daughter because her crying bothered him.
Their Captures
The day before the Big Harpe was captured in 1799, they asked the wife of Moses Stegall, of Red Banks, Kentucky, if they could have accomodations for the night. Mrs. Stegall granted their request and said they could bed down with boarder, Maj. William Love.
Around midnight, the Harpes murdered Love and ran downstairs to find Mrs. Stegall, "damned Mrs. Stegall for a damned bitch" and "immediately put her and her child to death."
It is said they slit the infant's neck for crying and Mrs. Stegall for screaming at the sight.
Moses Stegall returned home in the morning with a Mr. Leiper to find carnage in his house. He set out to find the murderers.
Stegall and Leiper rounded up an eight-man osse. They caught up with the gang but only apprehended Big Harpe after shooting him in the leg.
A report from the Kentucky Gazette, dateline Sept. 10, 1799, Lexington, said:
"The two murderers by the name of Harps, who kileld Mr. Langford last winter in the wilderness, and were arrested and broke the Danville gaol, killed a family on Pond river, by the name of Staple (sic Stegall), on the 22d day of August, and burnt a house; a party od men pursued and overtook them and their women; the Harps parted, Micajah Harp took two od the women off with him, the men pursued him and in riding about 10 or 12 miles caught him, having previously shot him. He confessed of their killing 17 or 18 besides; they killed two men near Robertson's Lick, the day before they burnt Staple's house. They had with them eight horses and a considerable quantity of plunder, seven pair of saddle bags, etc. They cut off his head. The women were taken to the Red Banks. The above took plac eon Pond river, in the county of Muhlenburg."
According to the Tennessee Encyclopedia of History and Culture, "the enraged Stegall cut off Big Harpe's head with a butcher knife while the outlaw was still conscious. Stegall collected no reward, but he placed the head in a tree in Highland Lick, Kentucky, as a warning to other outlaws."
Or as author Jonathan Daniels wrote Big Harpe's "rain-whitened skull grinned down at travelers for years."
Little Harpe was able to escape and rejoined Mason's river pirate gang as a highway bandit who robbed and killed travellers on the Natchez Trace between Tennessee and Mississippi.
In 1804, the Mason gang was captured, but Harpe and Mason escaped. In the process, Mason was killed (whether by the posse or Harpe is unknown), Harpe and another gang member tried to claim the reward on Mason's head but were recognized and arrested.
Following a brief escape, Harpe was captured in Greenville, Mississippi. He was tried, convicted and sentenced to hang. On Feb. 8, 1804, he was hanged until dead and then decapitated. His head was placed on a pole on the Natchez Trace as a warning to other highwaymen.
According to Harpe descendent Ernest Harp, the Harpe women were acquitted for murder and the crimes they witnessed. Eventually, they and their children faded into anonymity.
But the Harpe brothers became legends.